The Russian Revolution & Civil War
Epic History TV explains the major events of Russia's two revolutions of 1917– the February Revolution that ended Tsarist rule in Russia, and the October Revolution, that brought the Bolsheviks to power. They explain the causes of Tsar Nicholas II's growing unpopularity. That summer Russia lurched from crisis to crisis, with a Provisional Government that faced riots (the July Days), military revolt (the Kornilov Affair), economic chaos, and constantly dwindling support. Socialist Prime Minister Alexander Kerensky, once hailed as Russia's great hope, was unable to restore order, or, in October, prevent the Bolsheviks from launching a coup, organised by Leon Trotsky and led by Vladimir Lenin, that overthrew the Provisional Government and brought the Bolsheviks to power. A brutal civil war followed, leading to the death of more than 10 million Russians.
Introduced by Vladimir Lenin in 1921, the New Economic Policy (or NEP) was a radical shift in Bolshevik economic strategy. It eased the harsh restrictions of war communism, the Bolshevik economic policy during the Civil War, and allowed the return of markets and petty trade. The NEP was controversial within the Bolshevik party, where some saw it as a back down or retreat from socialism.
Life under the Soviets in Moscow and its surroundings - archive 1928: A diary written from the perspective of an inhabitant of a Soviet 'cell'.
NEP-Period marketplace [1921]. Small-scale private trade brought rural foodstuffs into city marketplaces.
Source: Marxist Internet Archive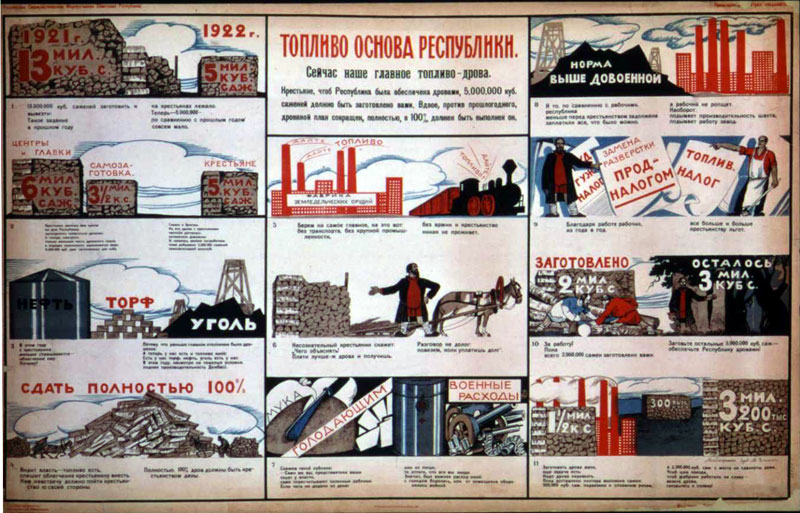 Mikhail Cheremnykh: Fuel is the Foundation of the Republic [1922]. And now our main fuel is firewood.
Glavpolitprosvet poster uses verses and illustrations to demonstrate the fuel needs of the country.
Source: Hoover Political Poster Database